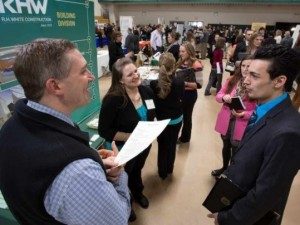 Our largest event of the year! Great opportunity to network with 70+ employers regarding internships, part-time work and full-time opportunities. Professional headshots are available for current students and the fair is open to all students, alumni and community members.
Please stay tuned for a full list of employers that are attending this fabulous event. Thank you. 
Open to All Students, Alumni, Staff, Faculty and Community Members 
Dress Code: Business Professional
Requirements: Resume
List of Organizations
Head to Road to Success for a list of recruiting needs!
Organization
Alternatives (OCR)
Amcomm Wireless
Assumption College: Graduate School Programs in Counseling Psychology and Education
Barton Associates
Beacon ABA Services
Boys & Girls Club of Webster-Dudley
Bryant University: Graduate School of Arts and Sciences
Carroll Enterprises
Century Bank
Connecticut State Police
Connection
Enterprise Rent-A-Car (OCR)
Envisage, Inc.
Essex County Sheriff's Department
Federal Air Marshal Service
Federal Bureau of Investigation- Boston
GEICO
Gentex Optics, Inc.
Habitat for Humanity MetroWest/Greater Worcester
John Galt Companies
Jones Lang LaSalle
Kforce
Lesley University: Graduate School Programs in Counseling Psychology and Education
MAPFRE Insurance
Middlesex Savings Bank
Mohegan Sun
Nashua Silver Knights
New York Life
Newport Hotel Group (OCR)
Nichols College: Graduate & Professional Studies
Northwestern Mutual Financial Network
Portland Police Department
Prudential Advisors
RHWhite-Construction & Service Solutions
Robert Half / OfficeTeam
Santander Bank
Securitas Security Services USA, Inc
SEI/Aaron's, Inc.
Six Flags New England
Stafford Speedway (Resume Drop)
Organization
Staples, Inc.
State Street Corporation
The Bridge of Central MA
The Hanover Insurance Group
The Moody Street Group, LLC
THE NEW ENGLAND CENTER FOR CHILDREN
The Sherwin-Williams Company
Thompson Speedway Motorsports Park
TransCore/EZ-Pass
U.S. Customs and Border Protection
UMASS Memorial Medical Center
UniBank
Unum
US Department of Homeland Security Investigations, Immigrations and Customs Enforcement
US Dept of Justice-Federal Bureau of Prisons
Verizon Wireless
Vermont Lake Monsters (Resume Drop)
Vision Advertising
VPNE Parking Solutions
Walgreens (OCR)
Walker Cares
Waterton Hospitality
WB Mason Company, Inc.
Western New England University: Graduate Programs for MS in Applied Behavior Analysis
Windsor Property Management Company
Worcester Bravehearts
Worcester Police Department
Work Opportunities Unlimited
Youth Opportunities Upheld (Y.O.U. Inc.)
Attending organizations and their recruiting needs are subject to change. Thank you.